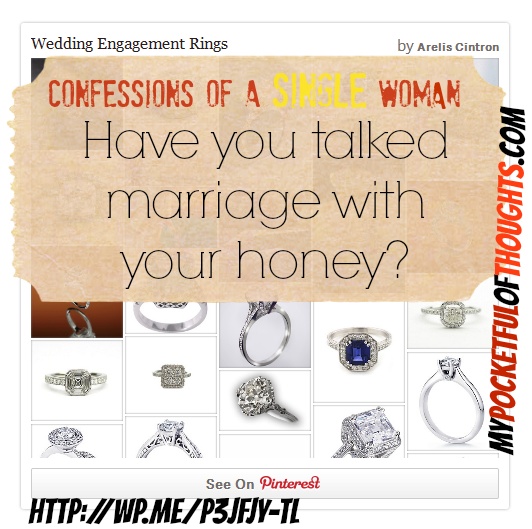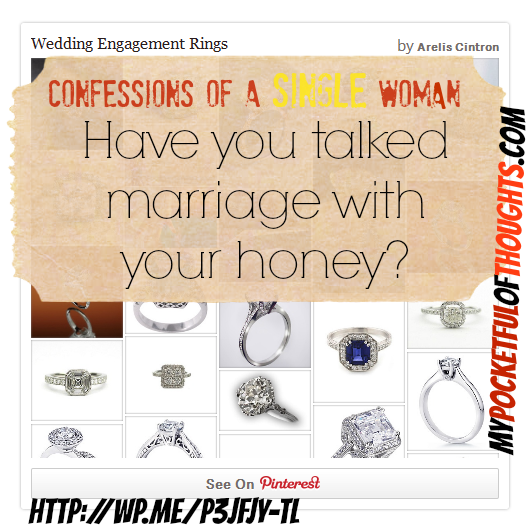 Today's conversation about engagement rings is inspired by my recent long weekend into NYC. Daniel had asked me, over lunch that Saturday, if I knew that the hotel we had booked was half a block away from the Diamond District. I really had no idea. No, really! I know that New York has a Diamond district but where exactly…clueless. I've never put aside that kind of money to go ring shopping to want to know where it is. Do you know where it is?


After convincing him that I really did not suggest our hotel for that reason, he went on to tell me about a run in with a guy that had also been at the All-Star festivities that Friday. I am not sure how the conversation went with him and this random fellow but he pointed him into the right direction. He was super psyched with all that he'd learned. While the conversation was unexpected, it made me feel positive about the direction our relationship is going. It is healthy to discuss your future with your soul mate for a number of reasons.
I have to admit I've been waiting for the question to be asked for what feels like a century now. What's the saying …time is relative. We've know for a while that marriage was on the horizon for us but we never discussed the details. It did sound like it would be in the far future; Close enough to see it come into view but not close enough to touch. Over the last few years, every vacation we took though left me feeling tortured. Is this the trip that he'll ask? I mean I want to be surprised but at the same time I'd like to know its coming. Is that weird? LOL It's the planner in me. At the end of last year, we went on vacation to Puerto Rico. The date we left was 12-12-12.
For months I had hyped myself up, again, thinking that was the perfect date. I found myself getting angry the more that day progressed and as I closed my eyes that night, I realized I needed to let that feeling go. The one that developed because of all the voices and wishful positive thoughts that came from other people, that this was the magical day. In real life, magical days happen. They happen every day when we take the time to be grateful for everything around us… including the (wo)man  we love but are not married to…yet. The next day he brought up engagement rings. He wanted to know specifics of what I wanted. He mentioned he saw a few that he liked on my Pinterest board. My Pinterest board? Yes, he was looking at my Pinterest Board for engagement ring ideas for ME! I told him to pick a ring that spoke to his heart.
The conversation of him actually starting to look for my ring helps keep that feeling at bay. It'll happen when it happens. It's been my response to everyone who asks. Everyone means well, I know, but I don't need extra voices in my head, the ones I already have are more than enough. LOL It feeds my soul and quiets the voices to talk about it though.
  Our trip into NYC left me in a happy place … something to look forward to. I'm no longer feeling like I need to know its coming … because I know it is. It's good to talk about marriage as your relationship progresses, if you see yourself getting married.

Single people, Have you started talking about marriage with your honey? If you're married, were you surprised by your engagement or did you have a talk before it came?
Penny for your thoughts!