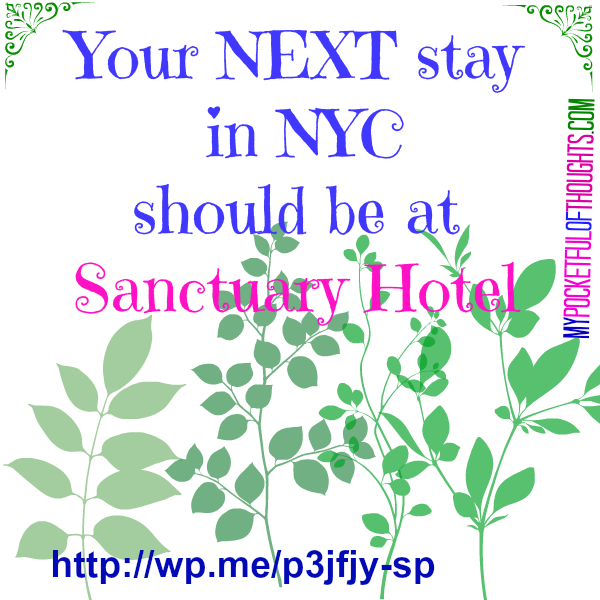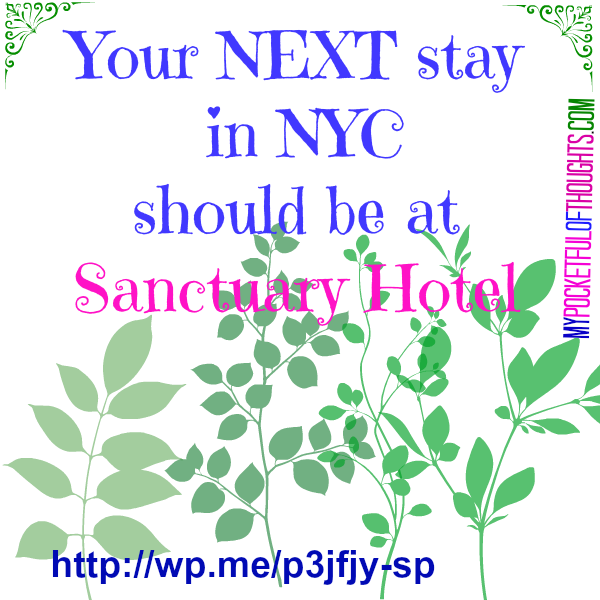 This year Daniel and I are working on getting all our ducks in a row. Paying off debt and saving for the future has become top priority. Our usual relaxing vacation seemed like it might be put off for a year …or two. Even with all the deals out there now, all the costs of a vacation can add up quickly between airfare, hotel stay, eating out, and any fun activities. If you know how to bypass any of these please share them with me. When we saw the Groupon deal on a posh hotel in NYC in Times Square we thought it would be perfect for a short weekend getaway to celebrate our birthdays. I told you how easy it was to go to the Red Door Spa but let me tell you about the hotel!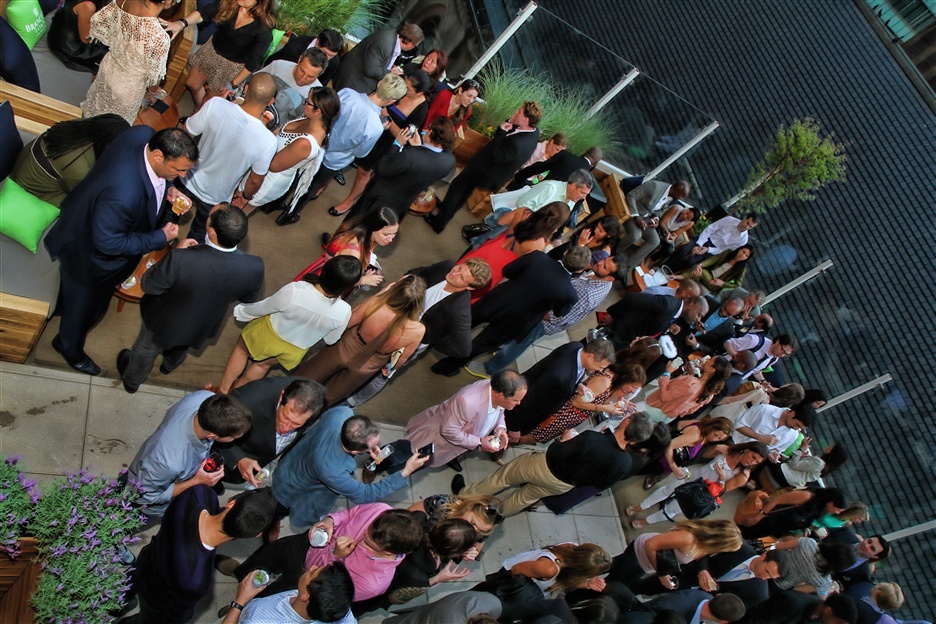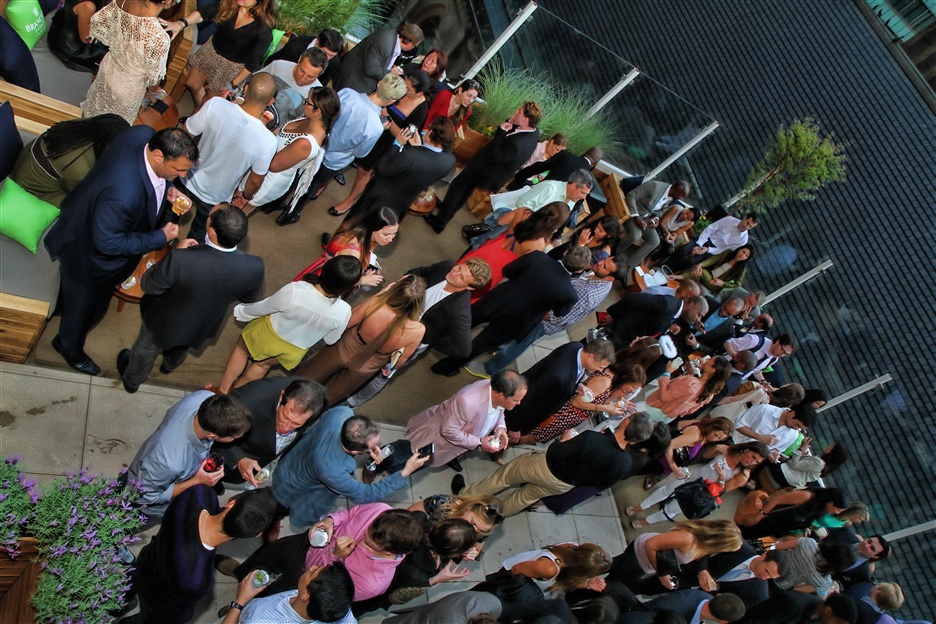 When I first did research on the Sanctuary hotel, I loved the pictures of the roof top bar. It looked like a great way to help celebrate Daniel's birthday. The menu prices weren't outrageous and it would mean we would save money on a taxi ride. We ended up finding a really great deal on Groupon for some fancy meals so we never got to the roof top bar. Maybe next time we're in the city on a cooler night with less humidity.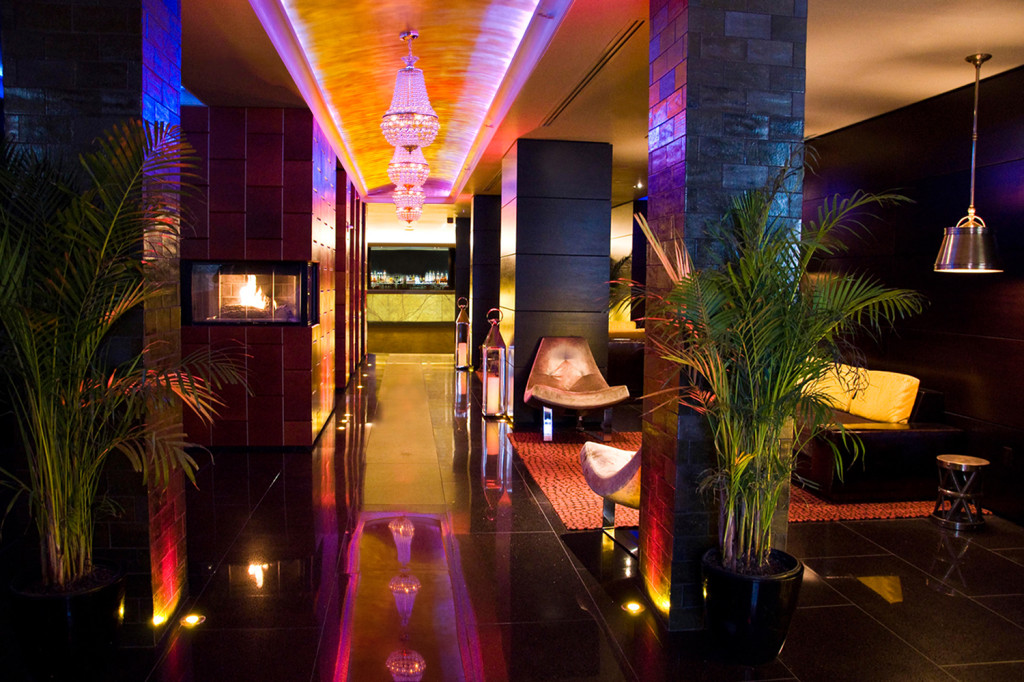 We had walked from Grand Central Station to 132 W 47th St since it was a short distance. I'm all about saving money on taxi rides! It was a hot Friday morning; too hot for a little after 8. Once we reached the hotel doors, we stepped into an air conditioned lobby that was inviting and chic! While I tend to like traditional décor, the Sanctuary Hotel lobby had a few furniture pieces that I wouldn't mind adding to my Future House Pinterest Board. We were greeted right away and I started the Pre-check in process. The helpful staff took all of our luggage so we wouldn't have to lug it around until our room was ready. Before we officially began our Friday, we caught our breath with a refreshing glass of cucumber water and lounged on one of the comfy AND stylish couches.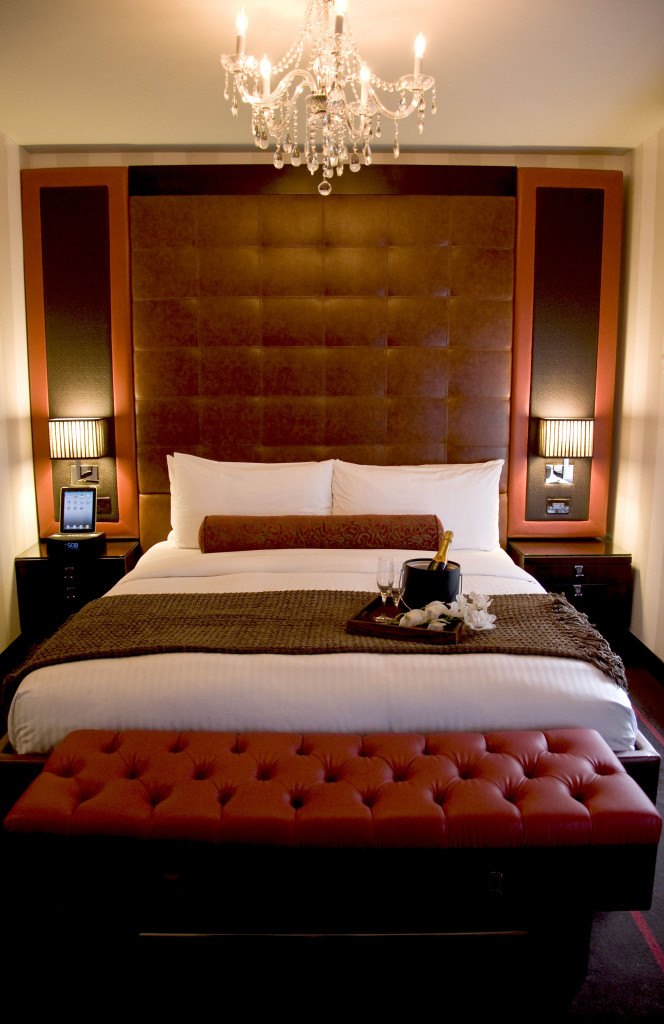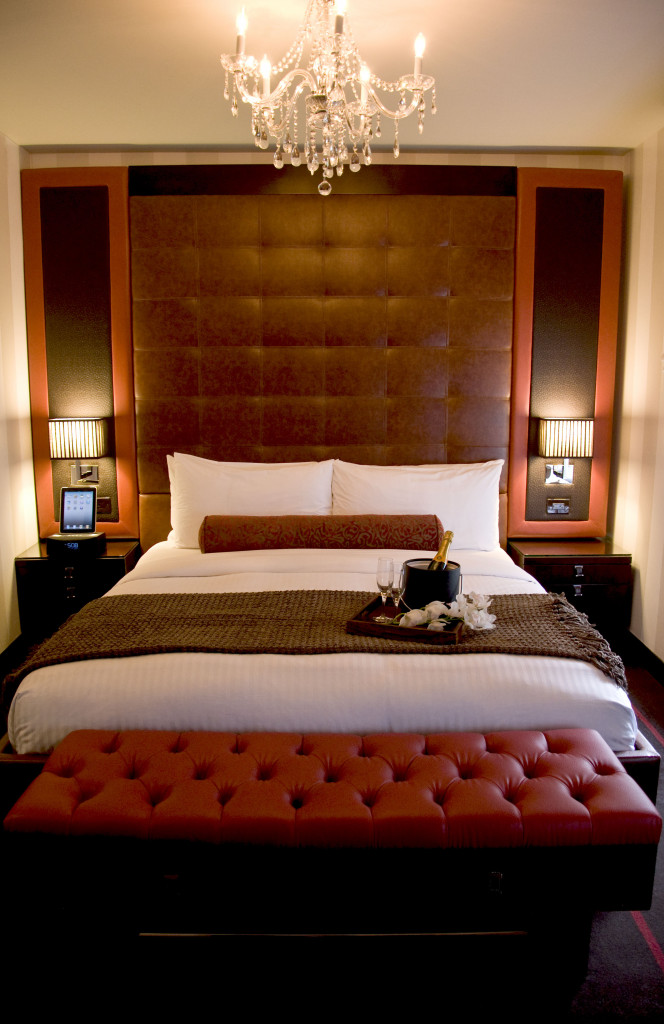 After my haircut at the Antonio Prieto Salon, I caught a taxi on 6th avenue back to the hotel. I was dying to see what the room would look like. Sometimes you can browse the hotel's website photos, they look inviting and fanciful but when you get into your actual room it looks nothing like it. Ever happen to you? They usually explain to you later that the room featured on the site is an upgraded room. Well, I was pleasantly ecstatic to find that was not the case here. What I saw on-line is exactly what we got! YAY Most hotel rooms in New York are tiny. The layout of the room was carefully executed and we didn't feel claustrophobic in the least.  How cute is the chandelier over the bed?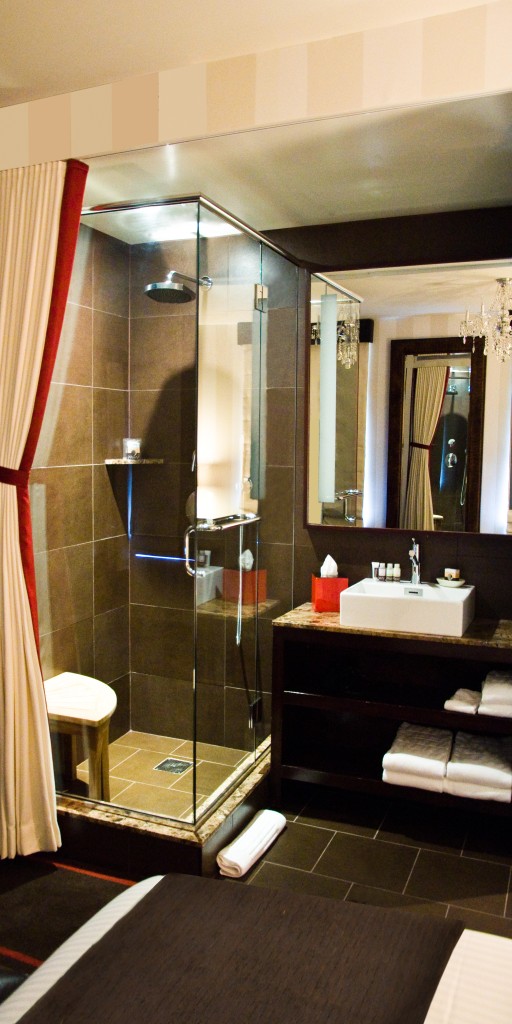 Yes the shower was right in the room. There was a curtain for privacy that acted as a room divider with the areas of the bathroom and the sleeping area. Daniel and I both got to thinking about our future Master bedroom. How cool would it be to have a shower like that in your room at home? Faaaaaancy!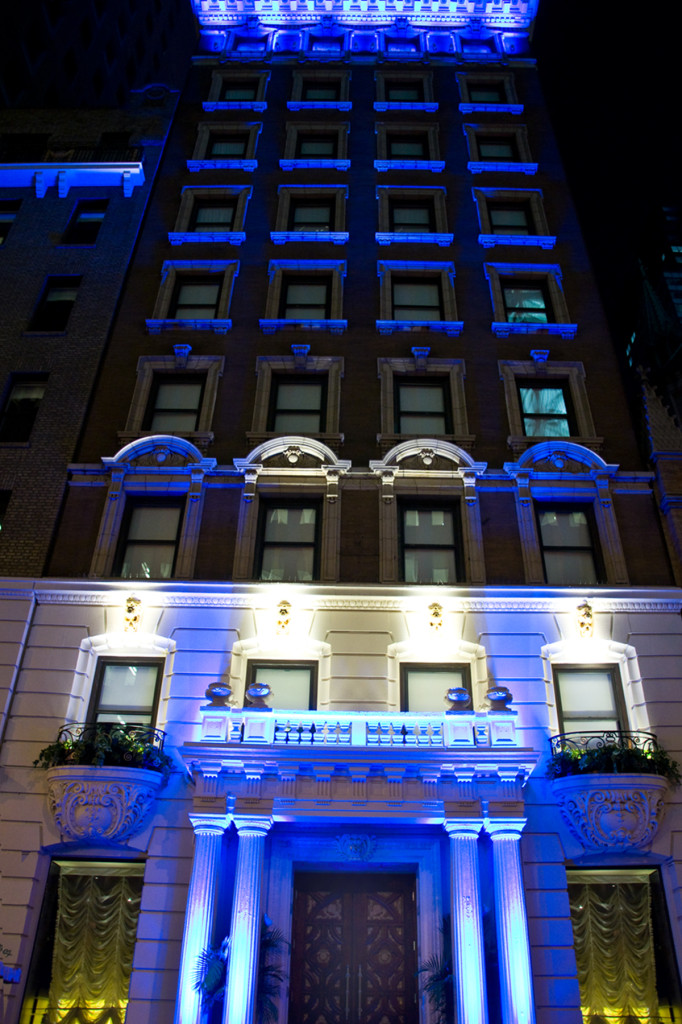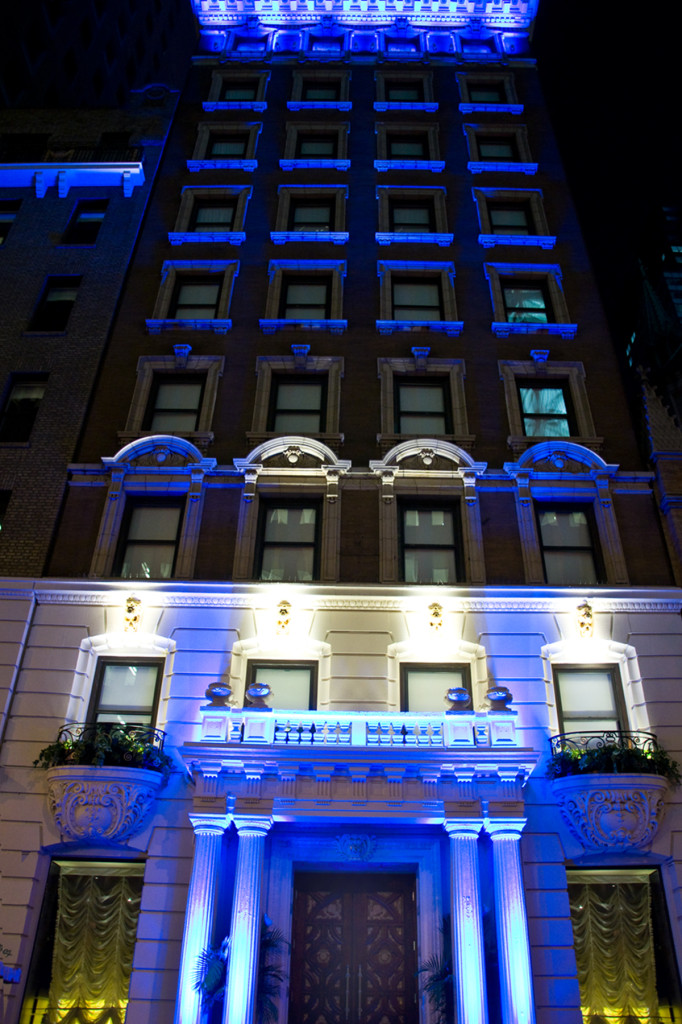 …After a night out on the town, we'd come back to this beautifully lit building.
The Sanctuary Hotel exceeded our expectations. Breakfast was yummy and consisted of a good variety of foods. I only wish they had some bacon or ham to go with the perfectly boiled eggs. The staff was attentive, courteous and attractively dressed.  On Sunday we checked our luggage back in to take advantage of being in the city one last day. We did quite a bit of shopping so we caught a taxi to Grand Central. An empty taxi passed the hotel, after being flagged down by one of the Staff members assisting us, it continued forward and then attempted to back up (on a one way street with oncoming traffic…umm hello). The taxi driver seeing that it was definitely not going to proceed back to us decided to continue forward. In a full suit, the guy runs down the street to have it wait for us. Daniel and I looked at each other and were stunned. Neither of us would have, in July heat and humidity, pursued a taxi at full speed and dressed as he was, to catch a taxi, even for ourselves. This is just one example of the amazing service the hotel provides to its guests. If we save up enough money between now and November, we'd definitely consider staying at the Sanctuary Hotel for our anniversary.
Have you ever had a hotel, 

meet and exceed

your expectations during a stay?
Until then,

Photo credits: All photos are property of the Sanctuary Hotel. Since Daniel got to the room before I did, I did not want to show you pictures with our stuff all over the place. I requested photos from Jeremy Poon, the General Manager of Sanctuary Hotel who sent me a warm email after completing a brief survey.
Disclaimer: This is NOT a sponsored post. Daniel and I were not paid to stay in a Supreme Queen room at the Sanctuary Hotel or to write our opinions. We thought this was a really great hotel in comparison to other NYC hotels we've stayed at in the past and we wanted to share our experience with you.