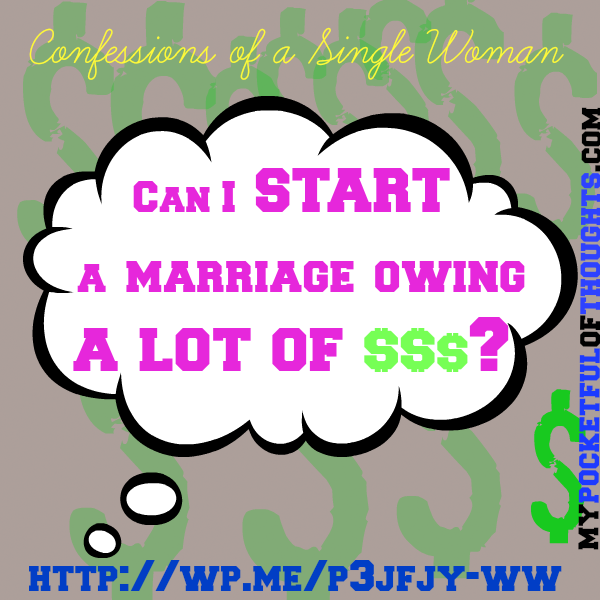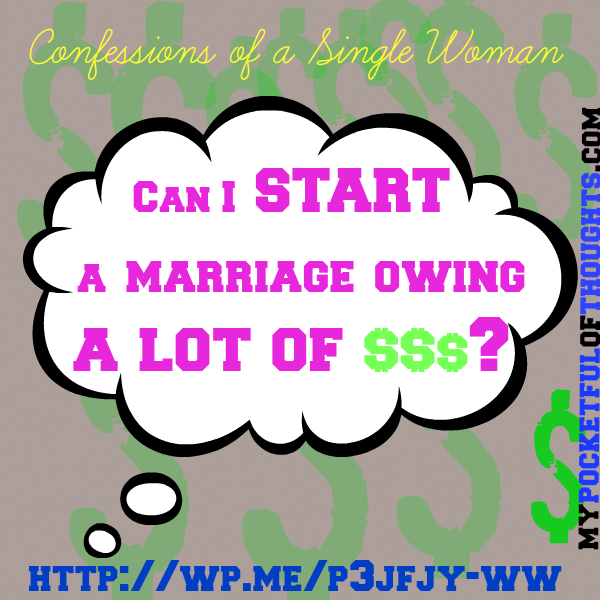 Can you start a marriage in debt? This is the question I have been asking myself for years now. If I can have a few more years, I can start my marriage debt free. RIght? After working in the financial industry for almost four years, I learned that the number one reason for arguments in marriages was about money. Here I am, years later,  still with credit card debt and loans I racked up when I was in college. While I value my college education, I don't like how long its taking to pay it all off. However, if I wait until everything is paid off I'll never get married.
In 2005, Annette Shoop of Primerica Financial Services, educated me on how money works. I had been three years out of college and I could not believe that out of all of the years of education, not one of my classes taught me how to manage my personal finances. Mrs. Themla Robinson taught me how to balance my checkbook in 7th grade. This was the only thing I had been taught in 18 years of schooling. I thought you had to leave money stuff to experts. I knew that I wasn't the only one who didn't understand money fully, so I started working for the company. I knew my Debt Freedom Date and I was educating other people to find out their own numbers. With the skills and knowledge I learned I now manage my money on my own. AWEsome!
The hardest thing to remember when you begin paying off large amounts of debt is that you did not accumulate it over night; Like magic your debt will not disappear in a day. You need to practice patience as you slowly pay it down. You learn to put away money for savings, even if its a small amount to start. You pay more than the minimum payment on your credit cards. You ignore the sales circulars and you become thrifty. However it requires a strong WHY to stay straight on your path towards financial freedom. I didn't have that.
I became too relaxed in my single life. I treated myself to new shoes instead of paying down my credit cards. I took several vacations a year. However, I don't regret it. I know that we all can get so caught up in making our money and paying for the possessions that keep us comfortable. We forget sometimes though that we need to stop and smell the roses. I enjoyed my years of travel. I know that there will come a day where I can buy something nice and not have to worry that I'm still paying it off years later. Daniel and our future together, has become my why.
Do you have your why to keep you focused on your financial goals?
I told Daniel for years that we could wait on getting married so I could pay off my debt. After having a conversation with my friends, Janeane and Brandi, they let me know if I wanted to wait to get married until I paid off all my debt I could but I would never get married. They're absolutely right! In life things will happen to cause our financial goals to either speed up or slow down. I know that for a fact. I could write a book with all the things that have caused me to be set back with paying off my debt. In that same book though, I could write a few chapters on the things that happened in my life that kept me from falling TOO far behind.
Now that the future is so close I can touch him it, It'll be easier to stay focused on paying down debt and walking past those cute Cole Haan  shoes I saw at Lord N' Taylor that I keep dreaming about. Just in case I need some extra accountability I'll share my progress and estimated debt freedom date on the blog.
What is

YOUR WHY

that keeps you focused on your financial goals? What are you working on?
Until then,