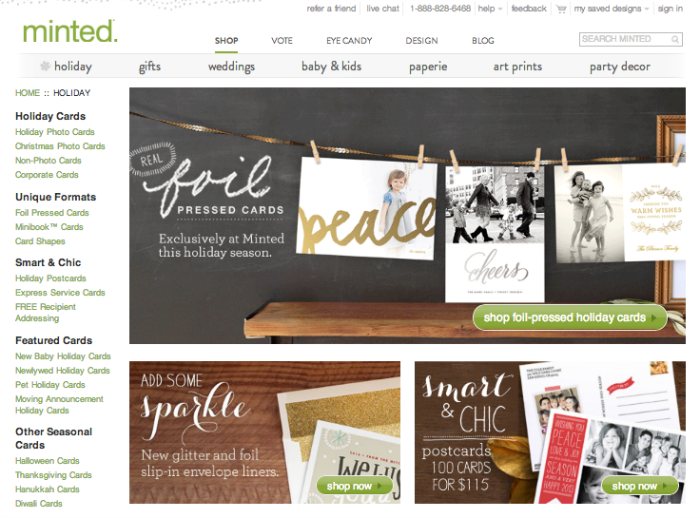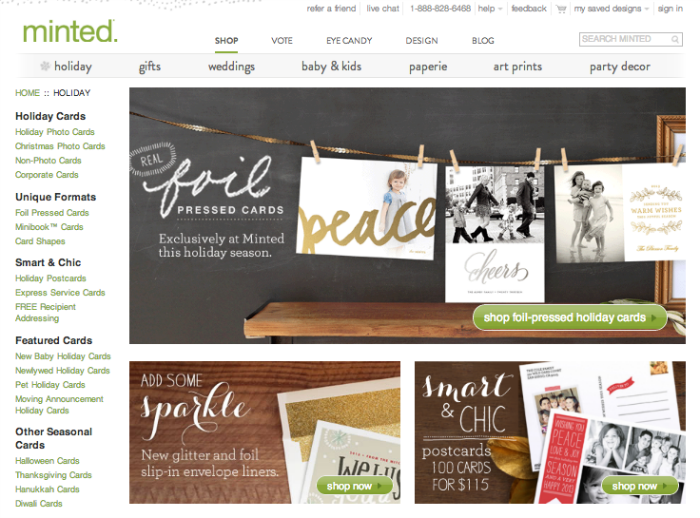 Did you score any deals for the holiday season this week? Since I'm budgeting for the wedding now, I've decided to take it easy on buying gifts for myself others. This weekend hasn't been easy by a long shot.  Luckily I have wedding planning to distract me. I was online looking for deals on wedding invitations. On Pinterest I found this creative looking invite that took me to Minted.com. Minted is a site where you can get Wedding invitations, Save the dates, Baby announcements, holiday cards and paper goods.
Follow Arelis Cintron Wedding Invitation Ideas on Pinterest
I loved how each category was divided into subcategories. It becomes a different ballgame when you go from pinning invites you like to actually picking out the invite. Minted.com had selections to narrow down your search. Would we like the printing type to be flat or letterpressed? Will the format of the invitation be flat or
Minibook™ Cards
? What style would reflect our wedding? Colors, card shape, season, price, and turn around …the options seem to go on for days! Since Daniel and I know our theme but not our colors yet, I decided I could pick a few that I liked and save it to my account to revisit later.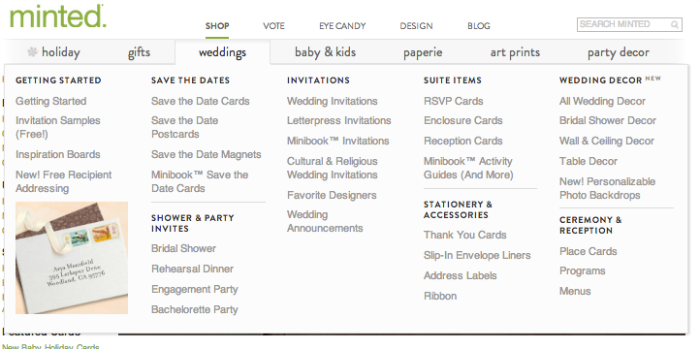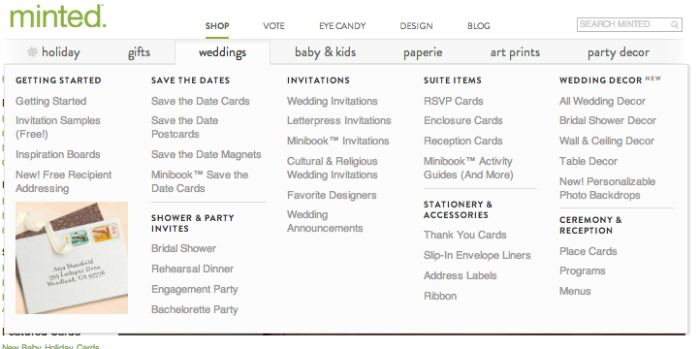 I loved the idea of this Happily Ever After type invitation by cadence paige design. It would allow me to customize the color that is used. Its easy to read and I can order matching RSVP and Thank You cards. I also liked the feature of being told that having a square shaped invitation would cost me more in postage. I had begun purchasing books of forever stamps earlier this year because rumor was the price of the stamp was going to go up soon. I went to purchase a few more books earlier this month and the woman asked me if I knew if the invitation was standard postage or if I would need postage for an irregular shaped envelope. Of course I had no clue! I knew I didn't want an ugly stamp to accompany the pretty ones available for weddings so I decided to hold off. Should postage influence your invitation options?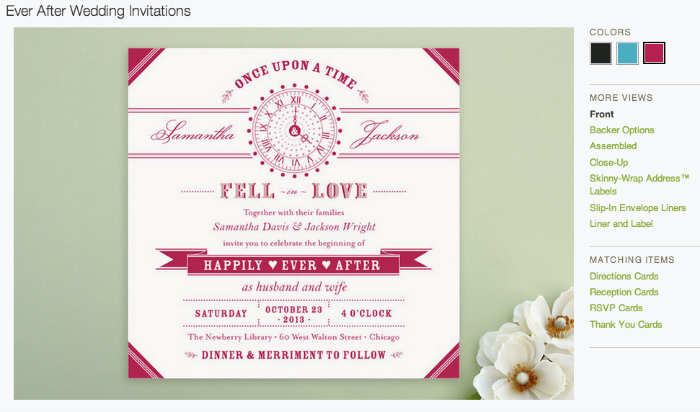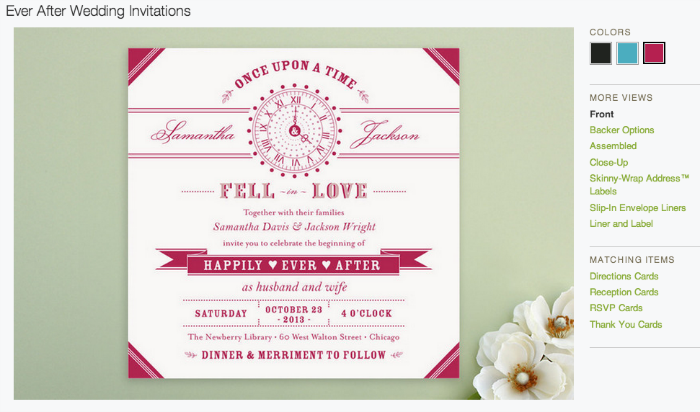 Since I clearly have more research to do about wedding invitations in general I thought it would be a great idea to look at the holiday cards. Daniel and I took some great shots immediately following our engagement. What better way to give our family and friends a taste of what's to come than with a nice holiday card? The website had simple cards and cards with personality to choose from. I fell in love with the dotted joy foil-pressed holiday cards by stacey meacham. It was super simple to customize. I just clicked personalize, uploaded my photo, modified the text and adjusted their placement by dragging it to the desired location. It took maybe a whole five minutes from start to finish to make after deciding on the design. If I could only decide on a wedding invitation that easily. Sigh.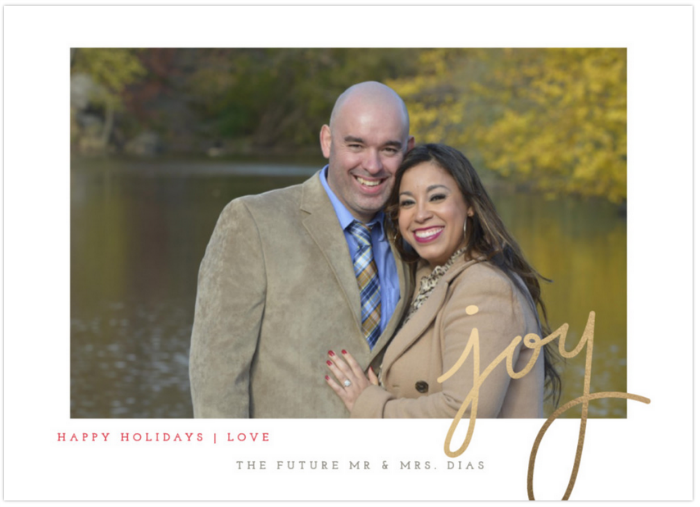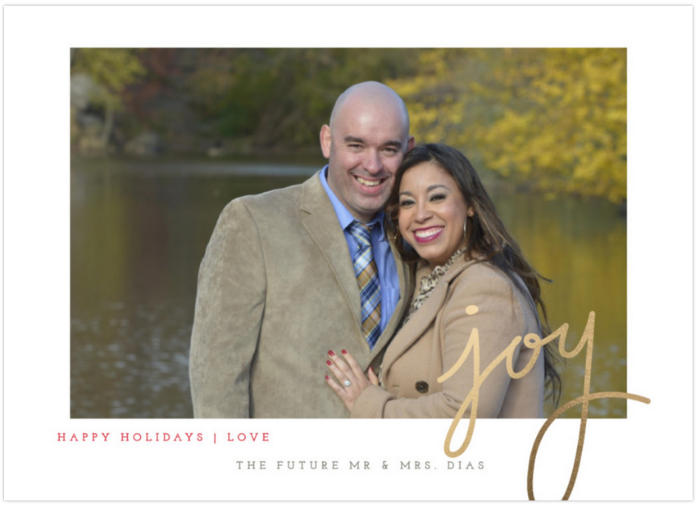 If you're looking to save money on your holiday cards this season check out the Minted.com website, follow them on Facebook or Twitter and subscribe to get emails to your inbox to find the latest discount codes.
Do you send out simple or photo holiday cards to your friends and family?
Until then,