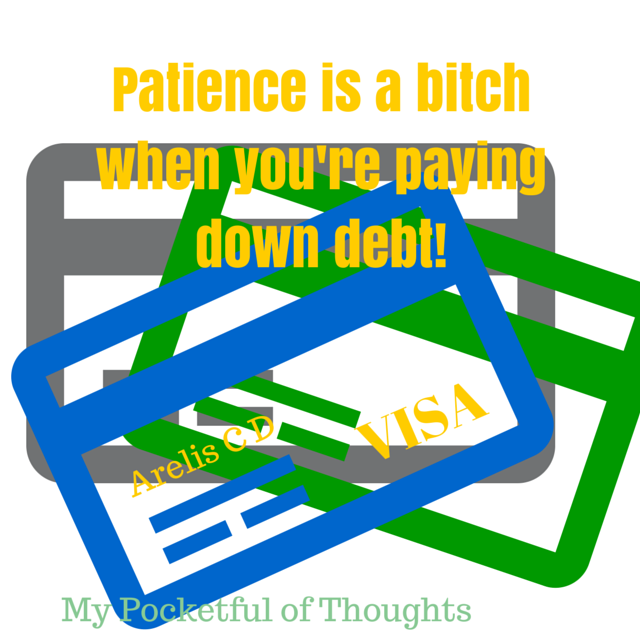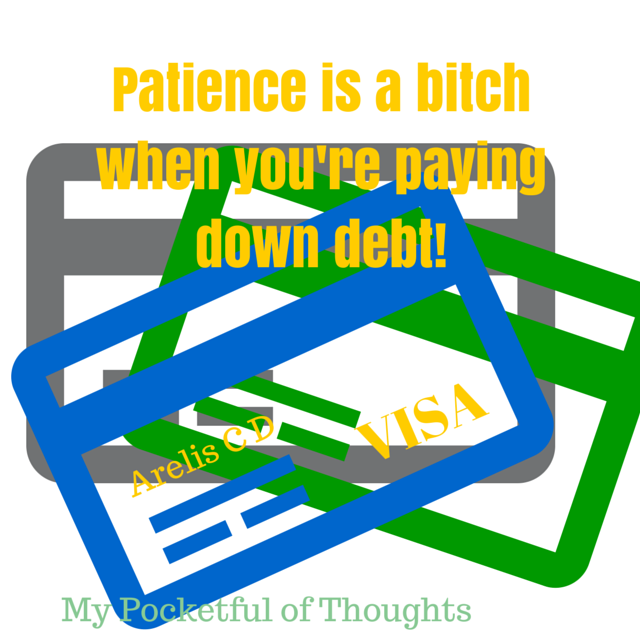 Patience is a bitch when you're paying down debt! I think of how many clients I told, "It took a while to rack it up and it'll take even longer to pay it off… but it will! You have to stay positive!" I remember saying that to myself again last April. If you'll remember I mentioned in Debt Keeps Me Up At Night that I was ready to finally share my journey on paying down debt. I had been ashamed to do so prior but I was seeing the light again and my debt was going down! …Then $&*5 hit the fan. It began to rain unexpected financial surprises. I was prepared for NONE of them! Read on to see what has changed over the past year!
It took a while to rack it up and it'll take even longer to pay it off… but it will!
When you have a lot of debt and you are working vigorously to pay it down, any type of extra financial surprise can be devastating. You finally saw progress! The debt elimination plan you were on was working. You saw the light! Sound familiar?
BAM! Your car decides to die on you! This happened to me the first time I hit a bump in the road to Debt Freedom. I was fortunate to find a car within my budget but it meant shifting my financial goals significantly. Two years later though I was back on track. YAY
BAM! It got slow at work! This meant less money in my budget BUT I had my emergency fund to fall back on! If you haven't already set aside an amount each month to pay yourself first and build up an emergency fund, start today. I started mine in 2005 with $25 a month. Whenever I got extra money I would put it away into that fund! Eventually it grows, even with today's low interest!
If I didn't have my emergency fund in place, a drop in pay could have easily made my financial situation go south fast!
…fast foward to 2014 …
BAM! My parents and I take my niece in. BAM! I'm planning a wedding! BAM! I'm moving out of my house and into an apartment! BAM BAM BAM!
When it rains it pours!
The last BAM of 2014 made me snap out of my funk when it came to money. I had to go to my happy place. I had to pull out my trusty dandy saying. It took a while to rack it up and it'll take even longer to pay it off… but it will.I know this as a fact! I've seen it happen for many people around me. I've seen it happen for myself, when things are going well. It will happen for me. It'll happen for you too, if you're on my ship!
Next week, we'll begin the journey together! I'll share with you what I've been doing for the last four months with my personal finances and the progress I've made to date. I'll share with you the things I've learned and you can share with me what you've learned! We'll be on this road to Debt Freedom together!
In the meantime…
4 things that has kept me sane about my debt!
You can control your debt, but only so far as your spending.
Something is always going to happen in your life to throw off your personal debt journey.
If you wait to pay all your debt off to do something big in your life, like marriage or kids, you might never get married or have kids.
You can't control everything!
If you don't have a positive look on your finances, you're in good company. But starting today, lets change that! Let's get excited about finally paying off our debt and enjoying life instead of stressing about every single penny. Are you excited yet? I am! 
Until then,